Whenever our Thinkster team launches a new product or service, we're always really excited to share it with parents. 
But this time, we're more excited than ever! 
Our team is determined to continuously deliver math and learning solutions that improve student performance. Over the last five years, we've introduced options that have helped thousands of students in Kindergarten to 8th grade in over 30 countries around the world. 
And parents and students love us! 
(This isn't a brag. You can check out our third-party parent reviews where we have 9.0 out of 10 stars!) 
There's so much love for Thinkster, that parents kept asking us:
When are you expanding to include high school math tutoring?! 
Well, this is why we're really excited.
Our amazing and elite Thinkster Math tutors are now available for ALL grade levels — all the way up through 12th grade!
Online Math Tutoring WORKS!   

 
Over the last six years, our Thinkster Math tutors have squashed concerns from parents about the effectiveness of online vs. in-person tutors.
If you have an ounce of doubt, just take a look at these amazing performance improvements from Thinkster kids.
Here are Georgia's results on her International MAP math test. Two years as a Thinkster student and her scores increased by over 20%!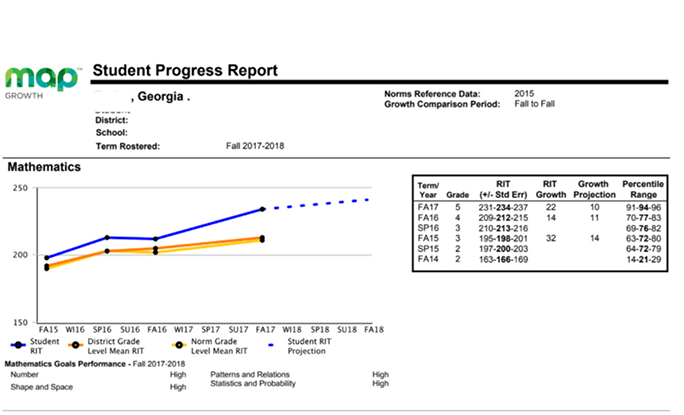 And check out Suprav's awesome MAP scores! He scored in the 97th-99th percentile!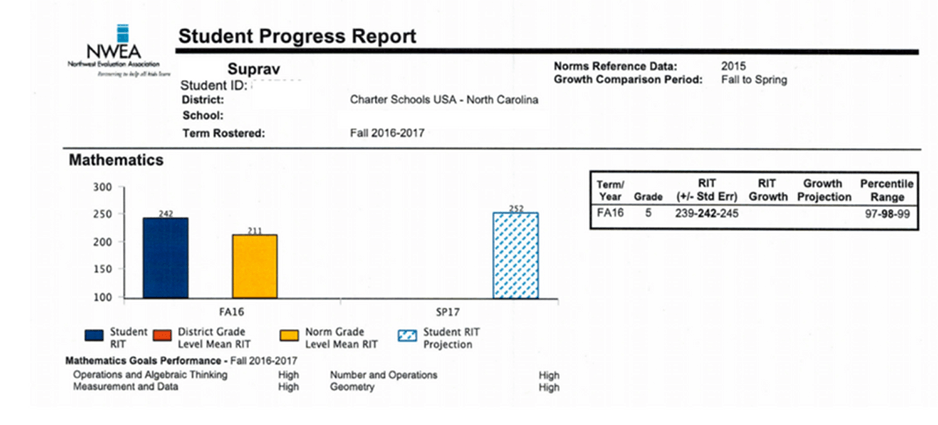 When it comes to online math tutoring, there are some seriously amazing benefits. 
Your child works with a tutor under convenient and flexible terms. There's no driving required and if you need to reschedule sessions, it's easy to do! 
Now, what makes Thinkster Math unique from some online math tutoring options, is that your child always works with one dedicated math tutor. 
This means that your child works with the exact same teacher for every tutoring session! 
This is something that is extremely important to us and one of the reasons kids, like Georgia and Suprav, see big performance improvements. 
It's also one of the top three features of our new math tutoring packages: 
1. Work with one dedicated, elite math tutor
Not all online math tutoring services can guarantee that your child works with one tutor. But this is something that kids love and benefit from! 
With Thinkster Math, your child develops a rapport by working with one highly-qualified and certified teacher. The tutor gets to know your child's learning style and coaches through concepts and strategies. 
Working with a tutor one-on-one isn't always something guaranteed at all math learning centers. Take Mathnasium for example. The ratio of students to instructors is usually 3:1 or 4:1. (Unless you pay the big bucks to work 1:1!) You can check out more on Mathnasium here.
2. Use tutoring sessions when and where your child needs them
There's no limit when it comes to how many tutoring sessions your child has in a week! Once you purchase a bundle of tutoring sessions, you get to work with the Thinkster Math tutor to schedule them as needed! 
Want to have two sessions in a week because your child has a test coming up? Go ahead! Want to wait and use them until midterms or finals? That's fine too! There's no expiration date. 
3. Use tutoring sessions how your child wants to use them
Does your child have a math test at the end of the week? Are homework questions causing tears and frustration? Are they studying like crazy for finals? 
Or does your child just really need help with understanding a specific math topic? 
You get to choose how you wish to use your purchased sessions. Your child's Thinkster Math tutor customizes the lesson to best help your child with whatever they need help with! 
Math Tutoring Made Easy 
For your high schooler, it's easy to select a math tutoring package! 
We've broken down our available packages by the specific class your child is in. 
This ensures that your child is matched with a tutor that is an expert with the specific curriculum your child is learning. 
In Algebra 2? Select the Algebra 2 package! 
Your child then gets ten 1-hour tutoring blocks that can be used when and how they need them. 
We also offer tutoring sessions for Kindergarten – 8th grade. It's a great option for kids looking for one-on-one tutoring sessions OR to add more tutoring sessions to a current Thinkster monthly subscription. 
So… are you as excited as we are?!
Tell us what you think in the comments section below, and share this awesome new option with your family and friends! 
For details and to learn more, check out our new math tutoring sessions here. You can request more information on that page and a Thinkster Math advisor will follow up by phone!