See Up to 90% Improvement in Math Scores within 6 Months, Driven By:
Certified U.S. Math Tutors
Developing Smart Study Skills & Habit Formation
AI Technology & Data Science
Uniquely Tailored Learning Plans for Each Student
World-Class Curriculum - Including Word Problems
Awards, Accreditations, and Recognitions
The New York Times

"Thinkster brings 21st century technology efficiencies to 19th century teaching methods."
The Wall Stree Journal

"A teaching coach uses it to develop a personalized learning plan... [to] help fill in the knowledge gaps in math."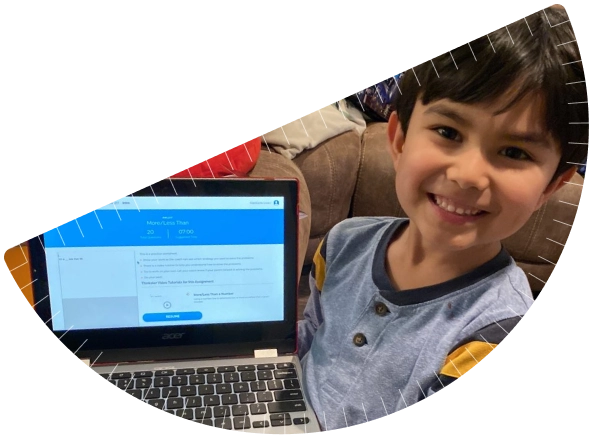 Everyone can tell you what mistakes your child made. We tell you
why

and

deliver guaranteed learning outcomes you can track.
Discover the only math program on the planet that offers two dedicated elite tutors to coach/monitor/provide feedback to your child daily. You also get private 1:1 tutoring sessions, plus a world-class curriculum with critical thinking, logical reasoning, and word problems.
70,000+
Registered Users in
30+ Countries.
Every Student Gets a
Dedicated
Tutor.
Elite tutors
monitor/coach your child
daily 24/7/365.
Thinkster Math Tutoring Case Studies
Our Students Have Seen Incredible Performance Improvements Thanks to Our Research-Based 3 Core Principles & 7-Step Foundational Method
"Thinkster Math did it in 1 year what Kumon could not do in 3 years!"
Before
Suhani, a Thinkster from Connecticut, initially earned a Score of 485 (Stage 2) in the Math section of the Connecticut Mastery Test (CMT).
After
In less than a year after signing up for Thinkster Math, her Score jumped to 547 (Stage 4).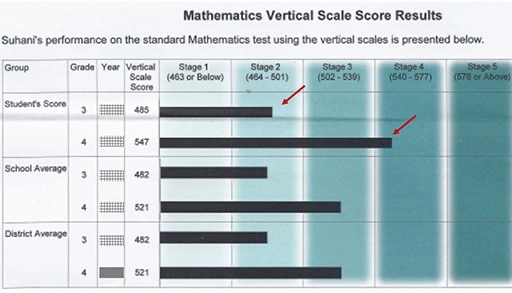 "My daughter went from 'bombing math' and being in "danger zone" to showing growth that was 80% above her state peers after using Thinkster."
Before
This Thinkster initially received an RIT score of 210 in the math section of the MAP test.
After
Within a year, she became a math rockstar in her class and school and managed to bump up her RIT score by 10 points.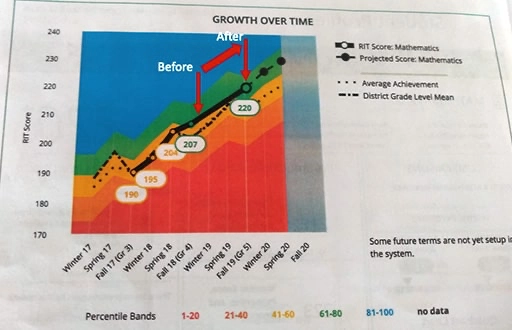 "It's amazing what a year of Thinkster can do! Her teacher told me it's the first time she saw any of her students score higher than a fifth grader! We are doing something right!"
Thinkster Alyssa, a second grader actually showed performance at the 5th grade level in the STAR Math Assessment, just a year after she started doing Thinkster Math!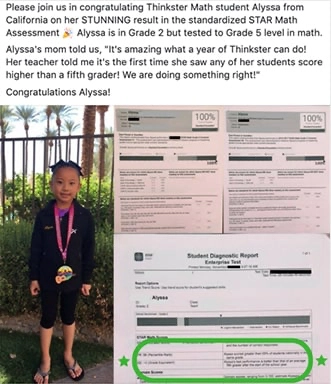 "Before starting Thinkster, Kiara was falling behind in Math, but these days she tackles complex word problems and has built strong calculation skills which have led her to achieve the highest band in the Australian Naplan National Test."
Kiara and her sister used to do Kumon in Australia before joining Thinkster five years ago! They were our first few customers "down under", but their performance in math has been amazing and worth of rock-star status!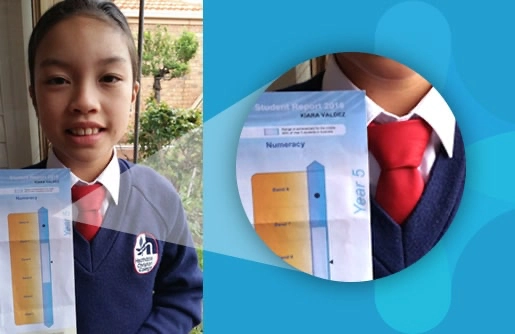 "...Thanks to his tutor and Thinkster, Soham has scored 86% in his state level and one of the highest in his campus..."

The figure on the right shows Soham perform at Master's Grade Level in Texas Assessment in Math after using Thinkster.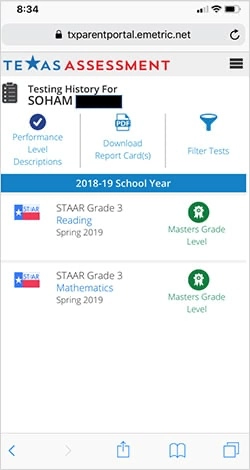 "Thinkster Math helped Suprav in building more confidence in math by identifying his strong and weak areas and working on them gradually to advance Suprav beyond his grade level which helped him achieve top scores no only in his class but also in his MAP tests"
Suprav scored in the 97th-99th percentile in the North Carolina MAP test within a year after using Thinkster.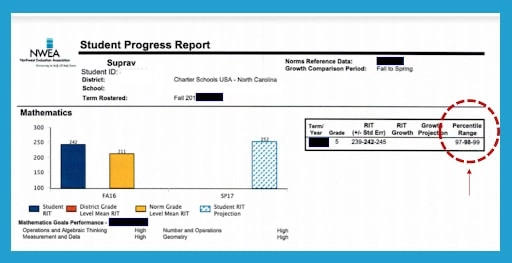 Figure on right showing Thinkster student Georgia's score of 93% in the International MAP Math test. Georgia has been a Thinkster student for 2 years and in that time her MAP results have increased over 20%.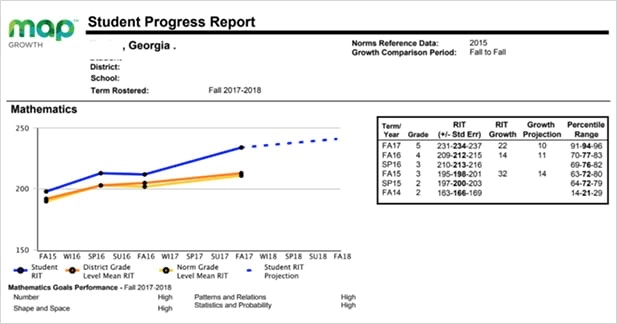 Literally, Off The Charts Performance!!
Camille's performance in the national NAPLAN test was literally off the charts! Camille's parents chose Thinkster over Kumon several years back because of the convenience of not having to travel to a learning center. Per her parents, "Camille's got a full extracurricular schedule and we didn't want to drive her to yet another place, and we didn't want to grade her worksheets. She is also able to do Thinkster easily while we travel."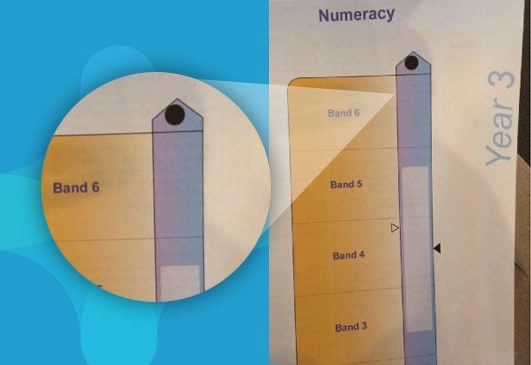 Literally, Off The Charts Performance!!
Kaydee's performance in the national NAPLAN test was literally off the charts! She is currently working on math that is almost 2 years ahead of her grade level. She used to do Kumon and has now being doing Thinkster for the last several years. We are looking forward to hearing more about Kaydee's future successes.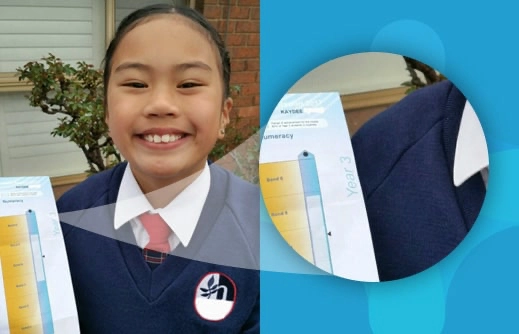 "Carys is a hard worker and takes school very seriously. She strives to be the best in everything she does. Carys was the only 4th grade girl in her school to obtain National Honorable Mention for the Noetic Learning Math Contest. We are very proud of her!"
Carys from Connecticut received the highest score possible in the SBAC! According to SBAC, students performing at this standard are demonstrating advanced progress towards master of mathematics knowledge and skills.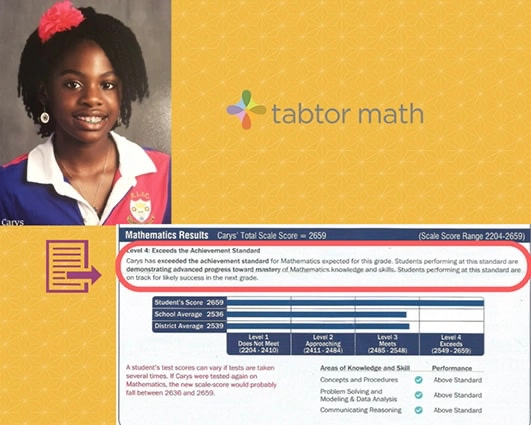 "Adrian, on the right, did amazingly well in the 5th grade NAPLAN National Test scoring in the highest possible band. He has been with Thinkster for several years!"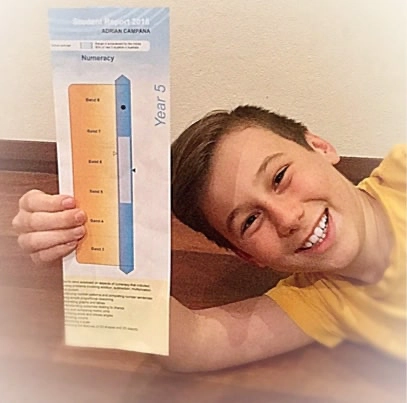 We Make Happy Parents & Students
Parents, Just Like You, Have Seen How We Help Improve Math Scores and Confidence!