Are you looking to help your child in math? A math tutor can help your child grasp math concepts they do not understand. If Kumon® Math and Thinkster Math are two program choices you are considering, check out how they compare to each other. Both Kumon Math and Thinkster Math programs are designed to help students improve their math skills, but parents should note a number of differences when deciding on a math tutor or instructor-led program.
Not every child thrives under the same learning method, so we've put together a detailed comparison guide to better highlight the differences between the Kumon Math and Thinkster Math programs.
In This Guide
In this guide, we are going to give you a comprehensive resource for comparing the Kumon Math program against Thinkster Math.
We are going to give full outlines of each of these tutoring services, and then compare them based on various metrics. This guide will aid your difficult choice in selecting an educational program for your child.
Who uses Thinkster Math?
Thinkster Math is the perfect choice for families who want their children to build strong conceptual mathematics skills. We are looking to build mathematicians rather than arithmeticians. We do this by covering a broad math curriculum with a strong emphasis on word and logic problems.
We support students of all abilities. Students can either fill in gaps in their math knowledge and/or extend their math knowledge beyond grade level. Our combination of digital worksheets and one on one whiteboard sessions with trained math coaches provides a personalized approach for young mathematicians of all levels.
The AI technology behind our digital worksheets helps tutors track student mistakes and deliver a study plan to improve each student's learning outcomes. Our expert tutors then use the coaching sessions to support students' Thinkster work, school homework, or test prep.
Our world-class curriculum, based on the US curriculum and Singapore Math, supports young mathematicians by ensuring they understand each math concept and can work beyond the standard algorithms by answering word and logic problems related to each topic.
Does your child struggle when trying to solve a word problem? The Thinkster curriculum ensures your child build strong critical thinking skills to help solve a variety of problem types. Important math skills (i.e. comprehension ability when reading word problems skills and analytical skills) help students solve problems.
Furthermore, we also make sure important math topics such as geometry, data handling, and measurement are mastered.
Thinkster Math: Key Advantage
Many parents choose Thinkster because they find that the service takes a more personalized approach to their child. Thinkster uses testing and planning to cater to an approach to each child's weaknesses, and fill in these gaps with conceptual skills.
Thinkster believes that by teaching students the conceptual skills surrounding mathematics, they will have the foundation to allow them to adapt to different problems as they arise.
Who uses Kumon Math?
Kumon Math is a more traditional math program that accelerates students through the math curriculum by focusing on arithmetic and standard algorithms. Kumon is a good option for families who want their children to concentrate on calculation skills and move quickly onto algebra and beyond and who are happy to supplement their child's problem-solving skills outside of the Kumon program.
Kumon is based on the Japanese method of learning math, with an emphasis on memorization and repetition. This can work well for students who respond well to rote learning and don't need to understand math concepts in depth.
Kumon also works well for families who prefer a paper-based approach and who are able to take their children to a Kumon center regularly.
Kumon Math: Key Advantage
Kumon is a reliable teaching program, that takes a consistent approach and applies it across groups of students. It focuses on skills that will be relevant in school and uses rote learning to reinforce these methods. If your child is adept at learning concepts through memorization, then Kumon would likely work well.
Thinkster Math and Kumon Math compared
Subscription Plans – Thinkster vs Kumon

Different families will have different priorities when it comes to supporting their children's math learning, so let's dig deeper and directly break down and compare the features that Kumon and Thinkster have to offer.
During the Thinkster 1-week free trial, students take one or more skills assessment tests to determine any gaps in their knowledge. You can identify a particular math skill your child needs to improve, and also your child's comprehension across a variety of topics. There's also the opportunity to speak to one of our academic advisors and have a demo of our shared whiteboard technology, which is used for the one to one tutor sessions.
Kumon runs promotions at certain times of the year and in certain countries for a free trial period. An initial assessment is carried out which is used to determine the student's starting point.
Kumon charges an initial registration fee in addition to the monthly subscription which gives access to a set number of Kumon worksheets and up to twice weekly center visits. A quick look into Kumon prices shows that parents typically spend an average of about $130 per subject per child. Kumon costs may change from center to center, as they are independently owned.
Thinkster has no registration fee and offers a range of subscription plans which include unlimited digital worksheets with and without whiteboard tutoring sessions. The tutoring sessions are always 1:1. There are no virtual classes or small group sessions. Families can switch between subscription plans with ease and aren't locked into a particular plan.
Worksheets – Thinkster vs Kumon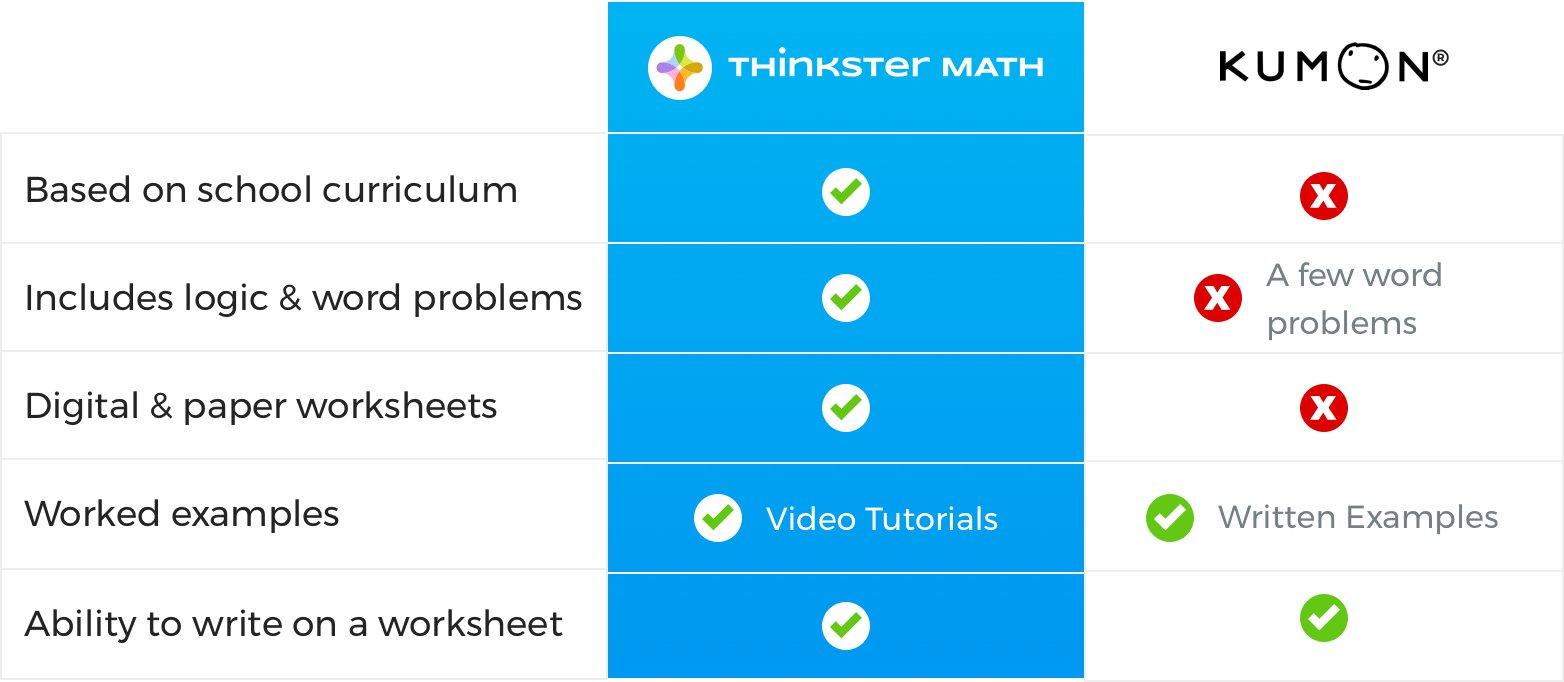 Thinkster worksheets cover the whole math curriculum and include plenty of logic and word problems so that your child gets daily practice. These help students to gain a thorough knowledge of each topic as well as follow closely the types of questions used in schools and on standardized tests.  They learn the critical thinking skills to supplement their foundational skills, which allows them to adapt to new problems as they present themselves.  
A Kumon student starts with counting (if they are early learners), moves to arithmetic and fractions, and then on to algebra. By skipping non-core topics such as geometry, measurement and data, and by using hardly any logic and word problems, Kumon students are able to reach algebra at a relatively early stage.
As one former Kumon instructor turned Thinkster instructor told us,  "What's the point of knowing algebra when you won't be doing it at school for another five years? With Thinkster, I can build a student's foundational skills while addressing school topics."
This generation of students responds well to digital resources. Kumon workbooks are paper-based, allowing kids to write both their working out and their solutions on the worksheets. Thinkster Math uses mainly digital worksheets. However, unlike the majority of digital math resources, students are able to write on these worksheets using a trackpad or use a stylus or their finger on a tablet.
Thinkster Math provides both video tutorials and a video library for students to watch examples prior to, during or after completing a worksheet. Kumon worksheets provide a brief example problem at the start of each sub-topic to help students get started on the topic.
Progression – Thinkster vs Kumon

Kumon assesses students' initial starting point. Students then move linearly through the Kumon program, working on one skill at a time. Tests are given at the end of each Kumon level. Progression through the Kumon levels is usually relatively fast since Kumon focuses only on those topics that are needed for algebra (e.g addition, subtraction, multiplication, division, fraction, decimals). Other topics and skills such as solving word and logic problems would need to be supplemented outside the Kumon program.
Thinkster tutors initially assign worksheets to fill any gaps in students' knowledge, including any weaknesses related to solving word and logic problems. Once these gaps are filled, work is assigned to move students to grade level and beyond, while all the time checking that students still have mastery of previous concepts. Tests are given at the end of each topic and at the end of each grade level. At times, tests are given before starting a new topic, to see what the student knows already, so they can focus on trickier parts of the topic.  Worksheets can also be assigned to support school homework and test prep.
As you can see, Thinkster takes a more tailored approach in that they identify gaps in knowledge before moving a child through a lesson plan. By finding where each student needs individual help, Thinkster can ensure that they build a proper foundational knowledge before moving to each new subject.
Student and Parent Experience – Thinkster vs Kumon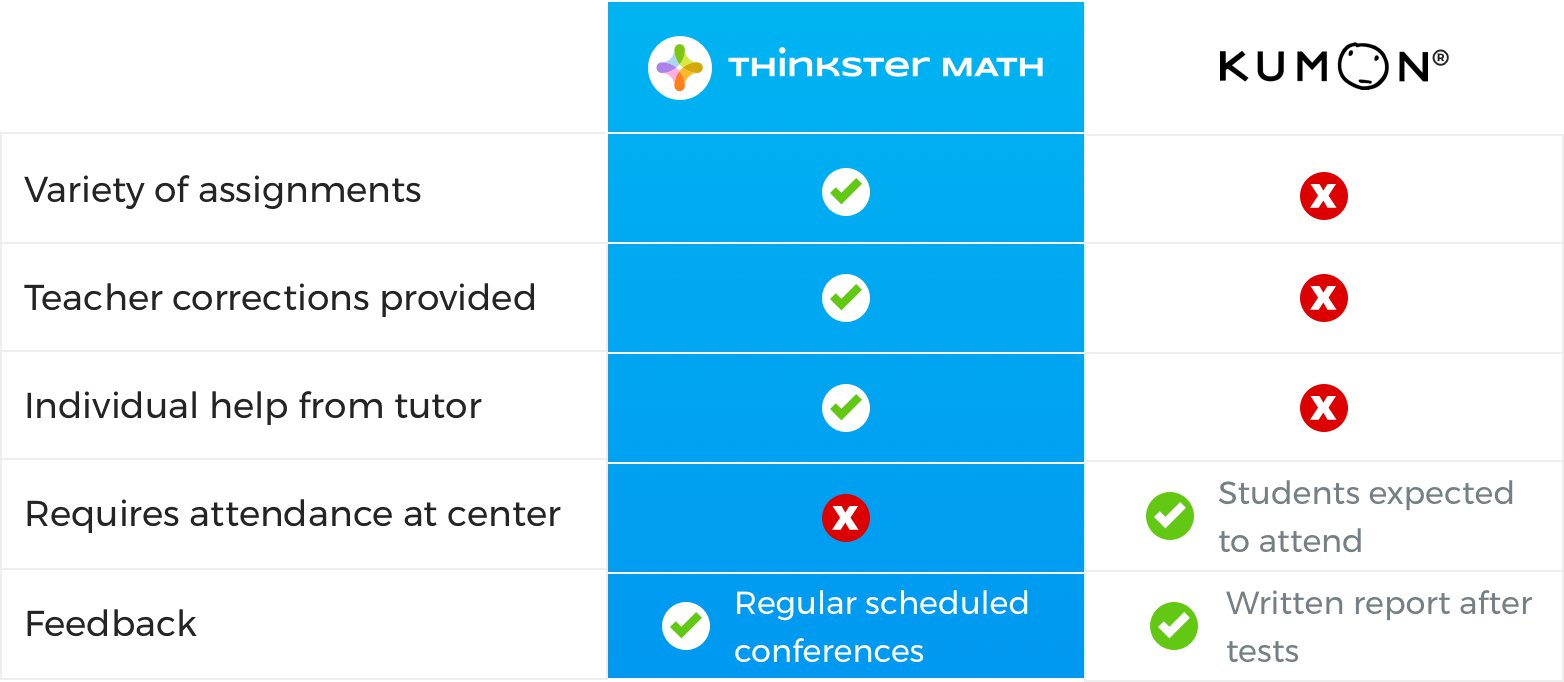 Thinkster students have the ability to work on multiple topics at the same time. This helps them get used to the mixed topic approach of standardized tests, as well as help students to avoid feeling bored or overwhelmed with a single topic.  Worksheets are automatically graded and worked teacher solutions and feedback is then sent within 24 hours.
Thinkster's expert tutors add new worksheets to the student account, tailoring these new assignments to previous progress, tests, and requests from students and parents. Individual help and guidance are available from the dedicated tutor and regular conferences take place by phone or online to discuss student progress.
Kumon students generally attend a center twice a week to collect work and complete worksheets. A quick 'Kumon near me' search on Google will show that the nearest center could be a few miles down the road or in the next town. Some parents drive over thirty minutes to reach the nearest Kumon learning center – especially if they live in rural areas!
In regards to assignments, Kumon students work on one topic at a time, taking a test at the end of each level. Written feedback is usually given at this time. Often, after completing a math worksheet or workbook, the Kumon work needs to be marked by parents. Answer booklets are provided.
The Kumon Method reinforces independent learning, even when at the learning centers, so do not expect high-level and one-on-one Kumon tutoring experience. Your child can also join a reading program at a Kumon Center.
The Bottom Line: How Do I Decide?
When presented with a comprehensive comparison based on many different factors, it can be difficult to evaluate what is important and make a decision. Any choice for your child's education is a difficult one, and forming a decision making criteria is important.
We recommend that you make this decision based on your child's individual learning style. The most important part of choosing a math teacher is finding one that plays to your child's strengths. All children learn in their own unique way, and a great teacher will be able to identify that and work with the child toward success.
If your child is adept at learning through memorization and routine, then Kumon might be the right choice. Kumon applies a consistent curriculum to each child, that focuses on repetition and memorization of concepts. Be sure to review the Kumon Method to decide if this style of learning will work for your child. (You can check out more on The Kumon Method here.)
Thinkster provides a more individualistic approach. Thinkster starts with worksheets that will identify gaps in your child's knowledge and then will provide the resources for helping to close those gaps. The lesson plan is catered toward what your child needs help with, and the focus is ensuring that they understand conceptual skills.
We think that these are the main factors for considering which style of after-school math program will be most appropriate for your child. At the end of the day, an effective tutoring program is able to cater the lesson to a student's strengths. So using our comprehensive comparison guide, we recommend you choose the program that is best able to address your child's weakness by playing to their strengths.
Bonus: What are the Different Learning Styles for Children?
Of course, to properly choose a tutoring program that meets your child's needs, you should be aware of how your child prefers to learn. This way, a tutoring program can be catered to your needs.
Although learning is often described in a very broad sense, there are 4 categories that are generally accepted as the 4 main learning "styles". Of course, people tend to be a mix of both, and every student is unique in their learning style. But understanding these styles can get you on the path to better understand how to cater to your own child's learning needs:
Visual Learning: Visual learners prefer to learn topics by seeing and visualizing the information. These learners might be aided by pictures, charts, and diagrams.
Auditory Learning: Auditory learners like to hear the information. These learners also will talk out the information to themselves to further their understanding. If your child likes to hear explanations and ask questions, then they might be an auditory learner.
Reading/Writing Learning: These learners understand concepts best when given a chance to write down what they have learned, or read and sort the information on their own.
Kinesthetic Learning: These are the hands-on learners, they like to experience the concepts they learn, and they want the chance to interact. If possible, they like to see an example of a concept in action in order to understand how it works.
This is a basic guide to these 4 learning styles. Of course, no one will neatly fit into either category. But in order to better understand the learning process of your child, it is would help to be aware of these concepts so that you can identify them as they arise. This way, you can pick a tutoring program that truly meets their needs!
Reviews: What our ex-Kumon families say about Thinkster
Thinkster Math was started by 2 ex-Kumon parents who wanted to improve their children's math learning experience. Since then, Kumon parents worldwide have switched to Thinkster, as a way to help their children improve and broaden their math skills while building a love of the subject. Read the Kumon vs Thinkster reviews below:
'Our child had become increasingly frustrated by the rote method employed by Kumon to build confidence. After looking for alternatives to Kumon Math instruction I came across Tabtor since renamed as Thinkster Math. We gave Thinkster a try and her enjoyment of math, and progress, returned. I think it is important to acknowledge that with both Thinkster and Kumon, progress is somewhat dependent upon the individual math coach. That said, the Thinkster system requires the coach to review and provide comment on each unit completed by our child. Further, the weekly coaching sessions are an actual coaching experience, not just time spent in a coaching center where the coaches are proctoring a study session.' Steven G
"Thinkster has been so amazing. The focus is on math but our son has improved in all subjects because he has gained so much confidence from figuring out how to study properly.
It's also so convenient to do the worksheets on an ipad at home and to do the tutoring sessions on our own time rather than the store hours of a tutoring place like Kumon." Michelle K
Read more Thinkster Math reviews on the Verified Reviews website.
You can check out Kumon reviews from third-party sites here and here.
Summary – Thinkster vs Kumon
Both Kumon Math and Thinkster help to improve students' math skills. We hope that this post has given you an overview of both programs and will help you decide which program will suit you and your family.
If you're ready to learn more about Thinkster Math, discover our philosophy and how our math tutors can spark thinking in your child. Your child can become a Thinkster at any time! Join throughout the school year, or if you are looking to incorporate a summer math program into your child's routine.
Features and support are constantly changing! This analysis was accurate to the best of our knowledge as of January 2018. 
Note:  Kumon®  is a registered trademark of Kumon North America, Inc. Thinkster Math is in no way affiliated to the same.