When I was a kid, having a math tutor wasn't something that other kids openly talked about. To this day, I have no idea if any of my friends or peers received extra math help. If they did, it was something that they kept quiet, likely because of the social stigma that was associated with having a math tutor. 
Now, though, it is very common for students to have private tutors or attend math learning centers and it's not as hush-hush. In fact, the private tutoring industry is expected to grow by $5.8 billion between 2018 and 2022! 
Online tutoring, in particular, is an extremely affordable, convenient, and popular option for parents. It's easy to connect with a tutor from a computer or tablet and receive high-quality tutoring from experienced teachers. 
Not only do our Thinkster Math tutors provide this level of support daily, but they are extremely well loved by the families that they tutor. Don't just take my word for it, check out our 9 out of 10-star rating, glowing parent reviews, and media reviews.
As a Thinkster Math kid, your child is going to love the program too – especially their one-on-one whiteboard tutoring sessions! 
When your child needs help, they want someone to

actually

coach and help them!
Late-night fits at the dining room table during homework time are a thing of the past when your child is a Thinkster. 
Instead, your child has their very own personal math tutor. They provide support and help work through problems with the teaching style that your child best responds to.
Many kids benefit from engaged and interactive learning techniques  – such as modeling and scaffolding – instead of lecture-based learning. 
This is precisely what your child's Thinkster Math tutor does! They involve your child by using teaching techniques to model and work through problems together. 
It's also exciting to use technology and fun interactive features for learning, like writing on the screen in different color pens and using the microphone to communicate with the tutor. 
Instead of being a passive listener in the backseat, your child sits up front with the tutor and works with them through problems hands-on! 
T

hey get to work with the same tutor every day, week after week!
What's really exciting about working with a Thinkster tutor is that your child always works with one person for their grade level and potentially beyond! 
We describe our tutors as dedicated – because they really are! 
They update the learning plan consistently and frequently based on your child's performance. They send assignments for your child to complete, then grade and correct those assignments daily. The very same tutor is the one conducting the one-on-one whiteboard tutoring sessions with your child. 
They are involved in every aspect of your child's learning plan and their progress.
This means that the tutor learns the teaching style and methods that work best for your child. You can learn more about why our tutors are rockstars on this blog post. 
They develop great rapport and positive relationship with their math tutor
Your child's dedicated Thinkster tutor takes the time to learn about your child, not just as a student, but as a person. During the sessions, they may ask about their day, school, or hobbies, and share a little more about themselves too.  
By doing so, they are developing a positive relationship and rapport as your child gets to know the tutor on the screen. 
One of our Thinkster parents, Liz F., shares more on her family's experience working with Thinkster tutor Erica – 
"Thinkster has been an excellent addition to my children's education. Everyone is professional, prompt and genuinely cares about students getting the most of their experience. Our tutor Erica is wonderful — she customizes her approach and assignments based on my kids' two personalities. She's a great motivator, but also holds them accountable. I would highly recommend Thinkster."
As your child gets to know their tutor, they grow more comfortable asking for help when they need it. This is a big step for many kids that aren't confident in the classroom.
They can get help with homework questions and test review
Some kids aren't comfortable raising their hand in class to let the teacher know they don't understand a concept or need help with last night's homework questions. 
Instead, your child can bring their homework questions right to their Thinkster tutor for help! You can take a picture or type the questions and email it. During the tutoring session, the tutor then takes time to review those specific questions.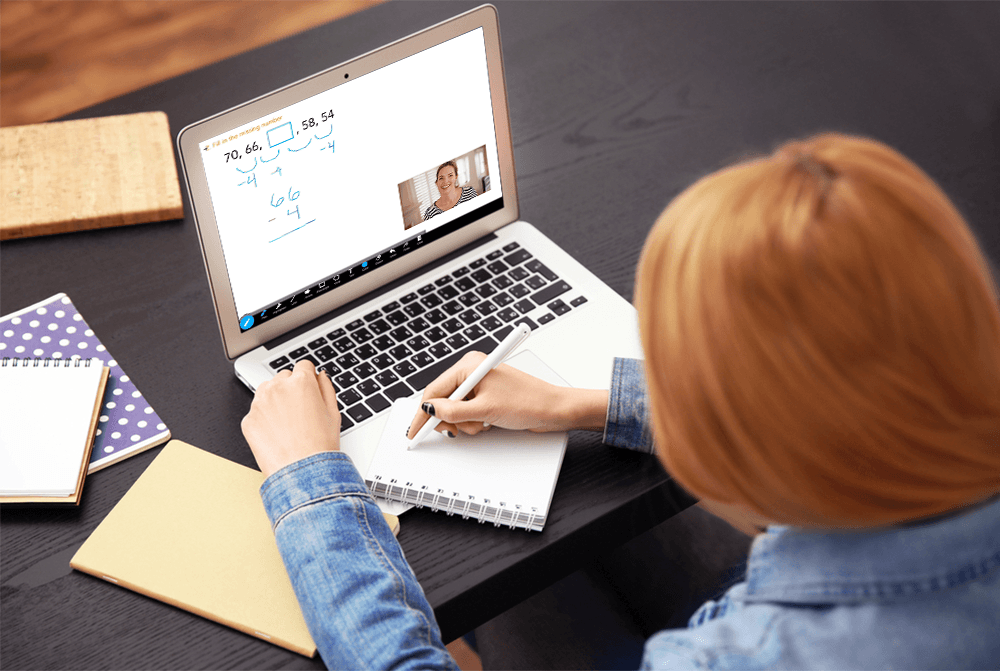 Your child can also use their one-on-one time for test preparation and review. The tutor can help work through strategies and problems that are likely to see on the test. 
Whether it's for homework review, state tests, or school tests, you can designate how you wish to utilize your child's tutoring time. 
Scheduling time with the math tutor is easy!
Your child's Thinkster tutor is eager to work with you to ensure your child gets the most from their tutoring sessions. It's not just what is reviewed during those sessions, but also when they have their sessions! 
Our tutors are available afternoons, evenings, and weekends, and your child's tutor makes sure that their sessions are set for a time that works best for your schedule and routine. 
If your child has an upcoming test and you want extra time with the tutor, you can also purchase additional tutoring sessions. This offers awesome flexibility, and many kids love getting to spend more time with their math tutor!  
Try a coaching session with your math tutor this week!
There are many reasons that your child is going to love their whiteboard tutoring sessions with their math tutor. Not only do they get one-on-one attention and math help for school success, but they get it conveniently from home! 
Our Gold and Platinum plans include one-on-one tutoring sessions with the coach. If you're curious as to what these sessions are actually like, then give our 7-day free trial a try!
During the trial, our advisors match your child with their dedicated tutor, who customizes the learning plan based on your goals and provides a demo whiteboard session.
It's an awesome opportunity to explore more on our whiteboard tutoring feature that Thinkster kids really love!