Have you been trying to find a math tutor for your child? Are you having trouble finding one in your area that is qualified, experienced, knows your child's curriculum, can meet on your schedule, and that you trust?
If you find yourself throwing up your hands and saying, "there are no tutors near me," it may be time to consider online math tutoring to support your child's math needs.
Online tutoring has a wide range of benefits for your child, but one of the top reasons parents choose it is because it provides location independence when it comes to finding and working with a tutor.
This means that you and your child can work with the most qualified math tutor who could be anywhere in the country or the world.
And, while some parents are hesitant to invite a stranger into their home to work with their child, the internet provides a level of anonymity that acts as a safeguard to protect your child. Plus, when you use a trusted online math tutoring program, like Thinkster, we even take the guesswork out of the hiring process for you – sourcing and vetting tutors so you don't have to.
Today, we are going to dive into some of the common concerns parents have when looking for a tutor – plus reasons why they may not find the right tutor for their child.
Why are there no great tutors near me? 
Depending on where you live, you may find tutoring resources very limited. If you do live in an area where math tutors are abundant (such as near a tutoring center or a college campus), you may have trouble finding one who can provide exactly what your child needs when it comes to math help.
If you're reading this, you've likely exhausted all of the resources that your child's school provides with little success. You may have turned to the local college for help, but maybe the college student you found is not reliable.
You may have even considered placing an ad in the local paper or online, but you find the idea of letting your child spend time with a stranger stressful and, let's be honest, somewhat scary.
We understand the pain that searching for a great tutor can create. If you're fed up with trying to find a great tutor near you, it may be time to consider online math tutoring.
Don't let the online aspect concern you.
While we've all heard of the dangers of the internet, using an online math tutoring program that you trust can provide you with all the benefits of online communications without any of the worry.
The internet has given us so much freedom. In our day to day lives, many of the services we use and products we buy are not limited to our own town (or local radius) anymore, and this translates to tutoring services, too. With customized assessment tests and tutor matching, you can find the best math tutor with great reviews and the most experience for your child. Using videos, messaging and online recordings, you can find a great tutor and get your child the homework help they need, without ever leaving your kitchen table or couch.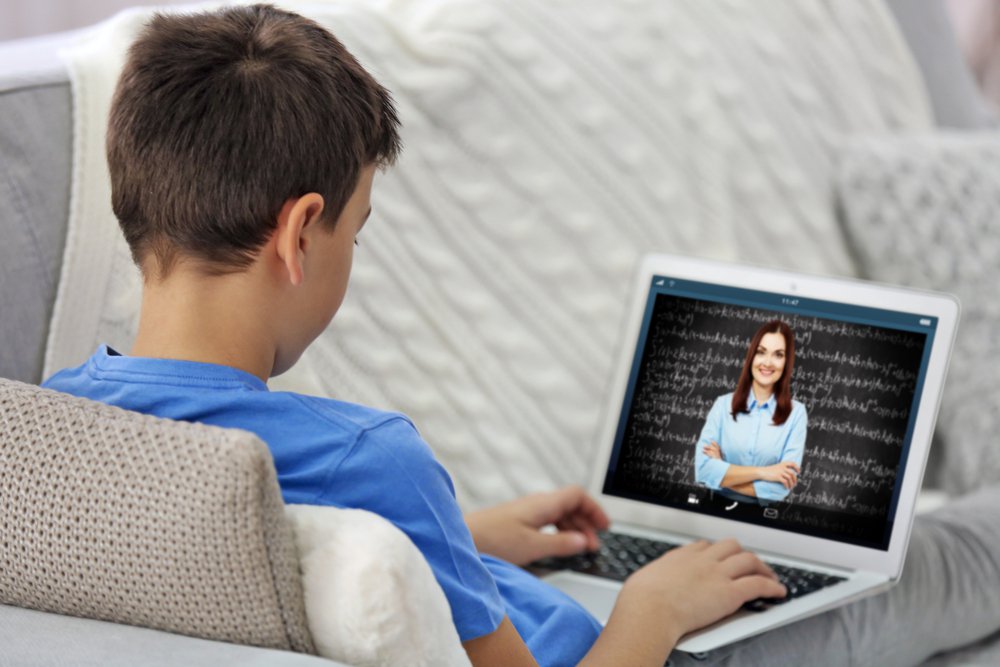 You don't even have to live in the same city, state, or region!
Making the switch to online math tutoring also makes it easier to schedule your child's tutoring sessions. You no longer have to be at a specific place at a specific time to work with an outstanding math tutor, making it easier to keep appointments and make sure your child is getting the most out of each session.
Why is it so hard to find a math tutor? 
Whether you are still looking for an in-person tutor or have already started exploring online math tutoring, it can be really hard to find the right tutor or program for your child. 
When it comes to a math tutor, you are looking for that perfect person: Someone who knows the math curriculum your child is learning in school and is also familiar with the best ways to teach it.  Someone who has relevant experience with students of the same age as your child and who has a proven track record of success. Someone who will get to know your child and their learning style. Someone who your child will trust and who can find additional resources to help your child if he/she gets stuck in a specific math area.
The list of what you are looking for can become exhaustive and long.
But, in short, this person needs to have the right experience, good references and reviews, be professional and punctual, and be available to you on your schedule.
That may be asking a lot from just one person, and you may have a hard time finding the perfect match. Finding a tutor is particularly hard for most parents because they simply do not know which questions to ask a potential tutor to ensure that they are the right fit.
And, if you are like many parents looking for a tutor, you may have even hired a few duds along the way.
We don't have to tell you that this wastes your time and money.
But, when you use an online math tutoring program with qualified tutors, the hard work has already been done for you.
At Thinkster, we hold our online math tutors to the highest teaching standards. We invite you to meet a few of our online math tutors such as Jackie Borsum. She is located in the United States and has more than 30 years of teaching experience. She says that she likes the connection she is able to get through the online conference video-style program we use, and she likes customizing worksheets for each of her students.
Our tutors are not only very skilled math teachers, but they also use their knowledge of math concepts in order to create personalized learning plans for your child. They do this by analyzing and observing your child's daily assignments, then guide them on the path to math success! 
Will a math tutor know how to teach my child the right way? 
If you've done any research on the subject, you've likely seen that there are a lot of math tutors out there. But, how do you know if the tutor is familiar with your child's curriculum and style of learning?
As we've mentioned above, a local search may come up with limited options. You won't know for sure if they can build a good rapport with your child and provide consistent help until they get started.
And, then, if the tutor you've hired is not a good fit, where do you go next?
The same risks even apply with independent online tutors that you may have found through your personal network or from an individual ad.
You need someone with the right tools and teaching style to work with your child in the right way. It can be hard to trust a stranger to get to know your child and their needs.
At Thinkster, we have a set curriculum that our tutors work from. This curriculum is aligned with the United States Common Core and the Singapore Math methods in order to bring your child the best possible learning experience.  Better yet, our curriculum is also aligned to the one your school uses!
Singapore Math, which refers to the actual teaching methods used in Singapore, has recently become more popular in the U.S. The island country consistently ranks high in the Trends in International Mathematics and Science Study (TIMSS) report.
So what's their secret?
Instead of focusing on drills and memorization of many skills each year, Singapore Math focuses on mastering a limited number of foundational concepts. The goal is for children to understand the material on a deeper level and not just learn it for a test. Singapore Math is now part of the core curriculum in 40 states and is the standard our tutors use to teach children in our online math tutoring program.
"The sequence of topics in Singapore math has been carefully constructed based upon child development theory," says Jeffery Thomas, president of Singapore Math Inc., the primary producer of Singapore math products for the U.S. market in an article on pbs.org.
"The means to mastery is problem solving, and the beauty of the approach is that the majority of students are well prepared to tackle increasingly difficult topics, such as fractions and ratio, when they are introduced in the third through fifth grades."
The concept teaches number sense, problem solving and conceptual understanding of math. It helps students understand the how and the why of math concepts, which leads to ease of learning when they encounter more difficult math topics in later grades.
Perhaps the best part about this method, though, is the fact that tutors can apply the Singapore Method to your child's own unique curriculum.
We don't believe in one-size-fits-all, and neither do our tutors.
How will I know my math tutor is effective and staying on task? 
When working with a traditional tutor, you only have what the tutor is telling you (and your child's grades) to be able to tell if the tutor is effectively helping your child.
But, with the technology-enabled online math tutoring program we offer, Thinkster tutors are able to track how your child is progressing and ensure that their learning goals are being met. You can view your child's recordings, communicate regularly with their tutor and see progress at any time on the Thinkster Parent App.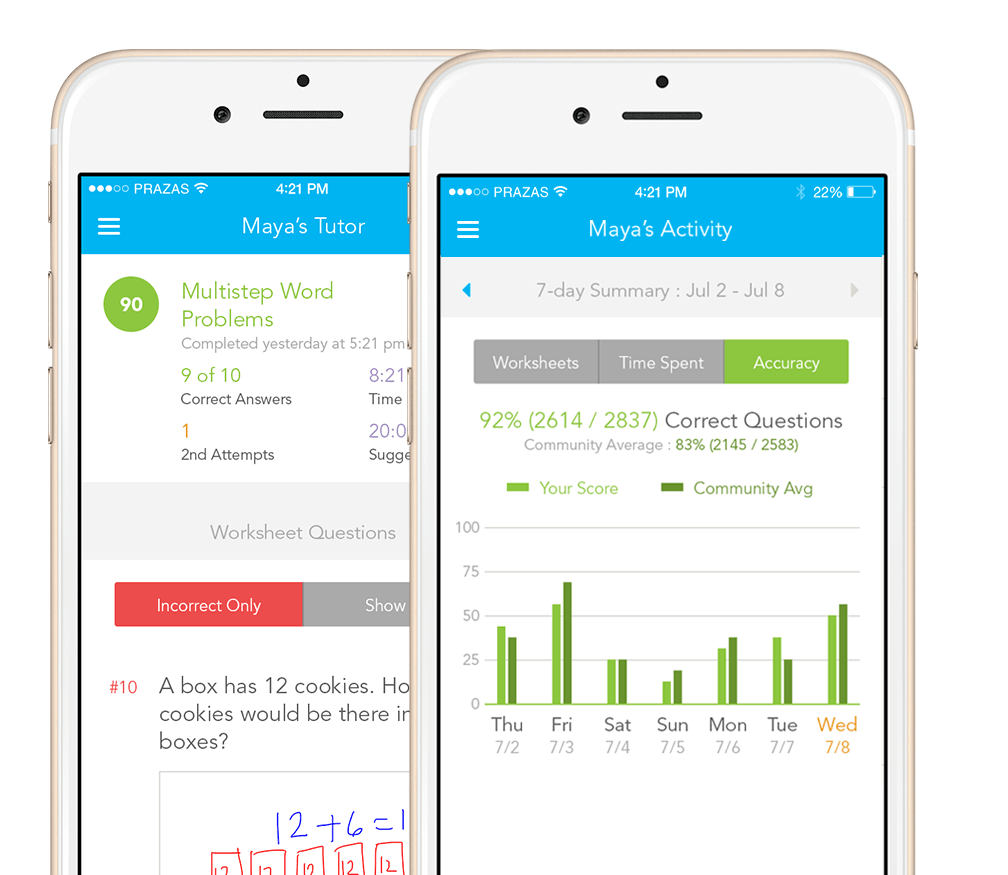 In fact, it's the goal-setting and progress checks that set our online tutoring program apart from other tutoring options.
An initial pre-test gauges your child's knowledge which is followed by regular proficiency reviews to make sure that your child is improving their math mastery.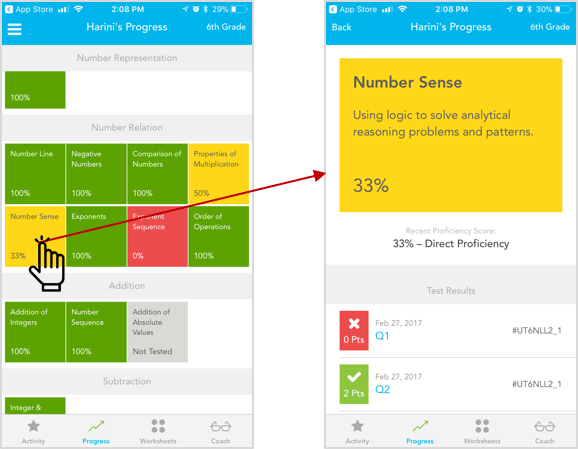 This provides a very strong structure and measurement than most tutoring programs and, sometimes, even your child's in-classroom curriculum.
Our math tutors have one goal: to make math champions.  
They don't just observe how your child works out problems. They are also able to understand and visualize their thinking using our Active Replay Technology (ART). With the information provided by this technology, our tutors can identify where students make mistakes and provide guidance so students can solve problems with greater confidence and an improved understanding of math concepts.
Won't my child learn better in person? 
You may think that your child learns better with an in-person tutor, but this is not necessarily the case. With the pervasiveness of technology, students are more comfortable than ever using digital devices for communication and learning – with many actually preferring to get their information this way.
Not all students do as well in traditional learning environments – such as the classroom – or with traditional methods. Online math tutoring can give your child a new perspective on learning, and help them see that the internet and technology can be used for more than just social media and YouTube videos. They can use the device of their choice in an environment where they feel the most comfortable – at home or wherever you choose.
With Thinkster, your child may not ever meet their tutor in person, but they receive plenty of quality one-on-one tutoring and learning time with them. Additionally, our online math tutors grade worksheets daily, leaving personalized comments and feedback for your child.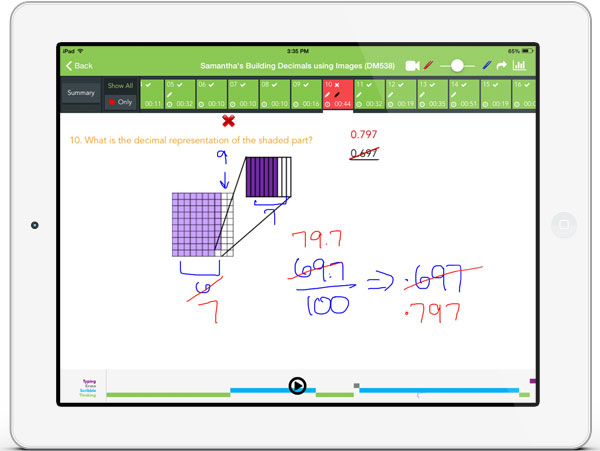 In one testimonial, a Thinkster parent applauded that the program provides tutoring sessions that are more like actual one-on-one coaching experiences than many in-person solutions, which often just consist of spending time in a large coaching center with one teacher proctoring a study session for many students.
Our tutors don't just lead one on one whiteboard sessions that are used to coach your child through challenging concepts and help them understand new topics, they can also help with homework and test preparation.
Your child's teacher or in-person tutor may not be available for extra sessions if your child has a big test coming up, but our tutors are. And, these services are included in some of our online tutoring programs.
Why not let us find a math tutor for you? 
We do what we can to make the tutoring process as easy as possible for you every step of the way.
Whether you're looking for a math tutor or considering alternatives to math tutoring programs, Thinkster Math saves you the stress and hassle by matching your child with an expert and dedicated math tutor. 
Register now to begin your 7-day free trial and get started with a dedicated tutor for your child.