Drive ELA and Math Test Scores Up with These Proven Features
Realistic Assessment Practice that Mirrors Test Blueprints
Online practice tests that mirror state test blueprints. Practice tests cover all question types, and help give your child the confidence to answer tricky questions on test day!
Rigorous Standards-Aligned Content at Your Fingertips!
Ensure grade-level skills mastery with a vast collection of digital workbooks, worksheets, videos, and many more that correspond to a specific set of state learning standards in Math and English Language Arts (ELA).
Self-Paced Guided Practice That's Powered by AI
Get personalized help for your child to help them develop a conceptual understanding of specific topics in Math and English Language Arts (ELA).
Deep Remediation for Improved Standard Proficiency
Your child learns at their own pace and are given automatic access to additional practice material based upon their performance on the assignments, to gain mastery of state standards.
Actionable Reports to Monitor Progress and Measure Growth
Get instant results with comprehensive feedback on your child's performance. You'll be able to track your child's progress with the help of easy to read and real time reports.
Your Child Can Learn from the Best U.S. Teachers & Coaches - Right From Your Living Room!
Certified coaches provide expert instruction, motivation, and feedback to help your child up their prep game!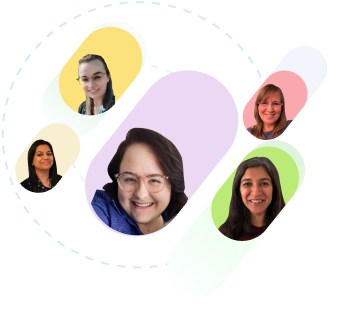 An expert Thinkster Coach will review your child's work daily and recommend further practice so that they remain on track with their test prep!
Plus, get two 60-minute tutoring sessions every week during the 3 week course.
The Right State Assessment Practice for Your Child

Realistic State Practice
Practice tests that covers all question types, tech-enhanced items, and state assessment exemplars, giving your child the confidence to answer tricky questions on the test day.

Auto-Remedials
The AI-powered deep remediation tool identifies your child's learning weaknesses and assigns precisely tailored remedial practice to close the learning gap.

Guided Practice
Practice varieties of math and ELA questions and get instant guidance to improve learning.

Reduce Parent Intervention
No matter how busy you are, we help your child with their test prep.

Track Performance
Monitor and track your child's performance with the help of easy to read and real time reports.

Identify Learning Gaps
The diagnostic test helps you identify your child's learning strengths and weaknesses in crititcal Math and ELA standards.
Parents, Just Like You, Have Seen Improved Scores and Confidence!
"My family is so happy... I'm able to monitor my child's progress on a daily basis, which gives me a better idea of her learning."
"Amazing practice content!... I was able to provide more challenging questions to my child which helped to improve their learning skills."
"My daughter went from 'bombing math' and being in "danger zone" to showing growth that was 80% above her state peers after using Thinkster."
Before
This Thinkster initially received an RIT score of 210 in the math section of the MAP test.
After
Within a year, she became a math rockstar in her class and school and managed to bump up her RIT score by 10 points.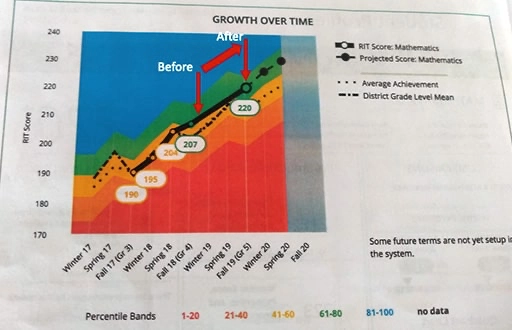 "Thinkster Math did it in 1 year what Kumon could not do in 3 years!"
Before
Suhani, a Thinkster from Connecticut, initially earned a Score of 485 (Stage 2) in the Math section of the Connecticut Mastery Test (CMT).
After
In less than a year after signing up for Thinkster Math, her Score jumped to 547 (Stage 4).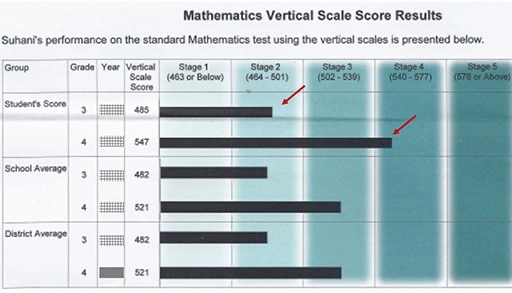 Measure Your Child's Test Readiness in 15 Minutes!
After you sign up, your child will get access to their first diagnostic test, which will:
Identify critical proficiency gaps in Math & ELA Standards

Get instant results with comprehensive feedback

Familiarize your child with new item types for State Assessment 2022-23

Eliminate test anxiety and boost confidence with access to the realistic State Assessment testing environment
Think the course might not be the right fit after your child takes their first test?
With our risk-free, money-back guarantee, you can request cancelation & get a full refund up to 24 hours after completing the diagnostic test.
The testing experience and results are completely FREE!
Sign Up Now
Eliminate Test Anxiety and Boost Your Child's Confidence with a 6-Step Personalized Pathway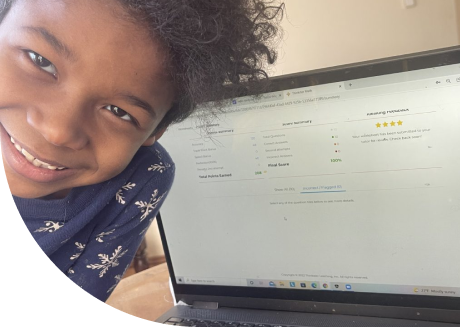 1

Your child will take their first online diagnostic test, which will assess various state standards in math and ELA.

2

Your child will receive a personalized study plan based on the results of their diagnostic test. The study plan will target areas of weakness from the test.

3

Your child joins two 60-minute tutoring sessions each week for test prep review and to improve their test-taking skills.

4

Your child will take a second online practice test.

5

Your child receives another updated personalized study plan on any identified topics that require more practice.

6

Based on practice suggestions, more skill-building activities are planned to help your child gain the comprehensive mastery needed to for success on the state assessment.
Test Prep Courses for Everyone!
We offer 20 different state tests options so you can pick the perfect course for your child.
AASA

Arizona

ACT Aspire

Arkansas

CMAS

Colorado

FAST

Florida

GMAS

Georgia

IAR

Illinois

iLearn

Indiana

LEAP

Louisiana

MCAP

Maryland

MCAS

Massachusetts

MAAP

Mississippi

MAP

Missouri

NM-MSSA

New Mexico

NJSLA

New Jersey

MYST

New York

OST

Ohio

PARCC

SBAC

STAAR

Texas

TNReady

Tennessee
But Wait... Act Now & Save 50% on Our Incredible Test Prep Courses!
Purchase within the next 24 hours and save BIG with our limited time offer!
Here's What You Get:
6 Hours (360 min) of 1:1 Private Tutoring

So that your child can clarify any confusion and work 1:1 with a tutor on test-taking strategies. (Valued at $600)

3 Week Access Course for Math + ELA

So that your has plenty of time to prepare and feel confident on test day. (Valued at $200)

Two Realistic Practice Assessments

So that your child becomes familiar with test question style and format. (Valued at $200)

Personalized Learning Content & Resources

So that your child can master all concepts from every angle! (Valued at $100)

AI-Powered Learning

So that your child's study plan stays personalized and so that they can develop a conceptual understanding of specific topics. (Valued at $100)

Assurance of Standards-Aligned Practice

So that you know your child is working on grade-level skills that are mapped to state standards.(Valued at $100)

Parent Reports

So that you can monitor your child's progress and stay in-the-know of how they're performing.(Valued at $100)
These Students Received Incredible Test Scores with Our Help... and So Can Your Child!
Frequently Asked Questions
How & when does the course start? How long does it last?
Once purchased, you will hear from a Thinkster coach. They will share the course access details with you so that your child can take their first diagnostic test. Once access details are sent, the three-week course begins! The coach will also work with you to schedule the two 60-minute tutoring sessions each week.
What is the risk-free, money back guarantee?
We understand making sure the test prep course is a good fit for your child is important! You have up to 24 hours after the first diagnostic test is completed to request course cancelation and a refund.
Can I pause or cancel the course early?
There are no pauses or cancelations . We encourage your child to fully utilize all features to get the most of the three-week course!
Can I transfer the course to another student or can two students share access?
Once purchased, you will not be able to transfer the subscription to a different student. Students cannot share courses, as the learning plan is personalized and tailored to each student.
How does payment work?
You will pay for the course when signing up. We accept credit cards (Visa, American Express, MasterCard), PayPal, Google Pay, Apple Pay, Affirm and PayPal Credit.