01
Your Child Starts by Taking a Skills Assessment
Imagine being able to understand what your child needs to succeed, be it compete in the math Olympiad or get help with school work. This is what we do, by quickly creating a baseline. We start with a simple Skills Assessment of your child to identify their strengths and weaknesses.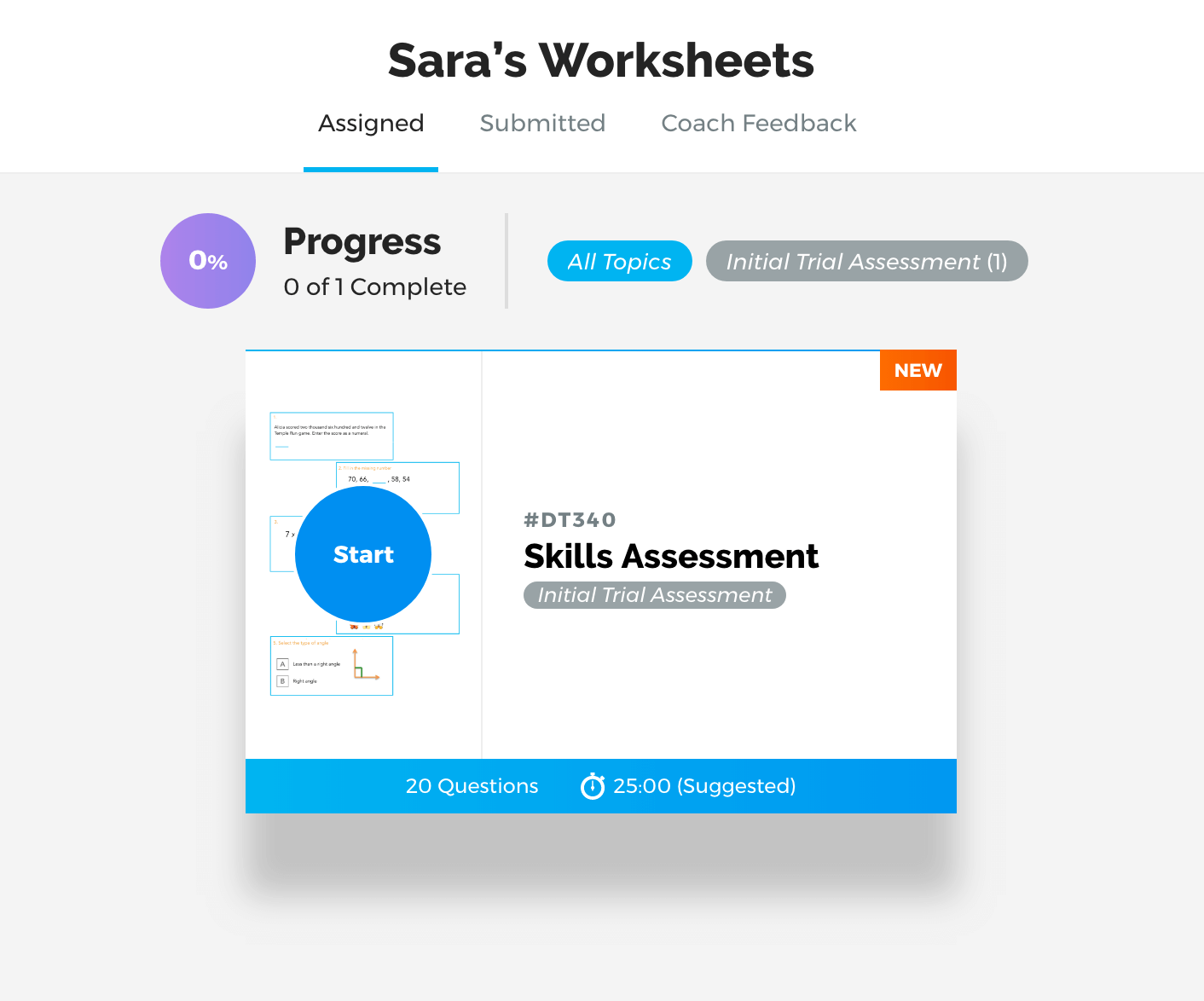 02
Attend a Session or Call with an Academic Advisor to Learn About Best Practices for Success
During a call or webinar, an Academic Advisor will answer questions and share the many benefits your child gets as a Thinkster! You will also complete a student learning goals questionnaire. This helps our advisors math your child to a dedicated math tutor.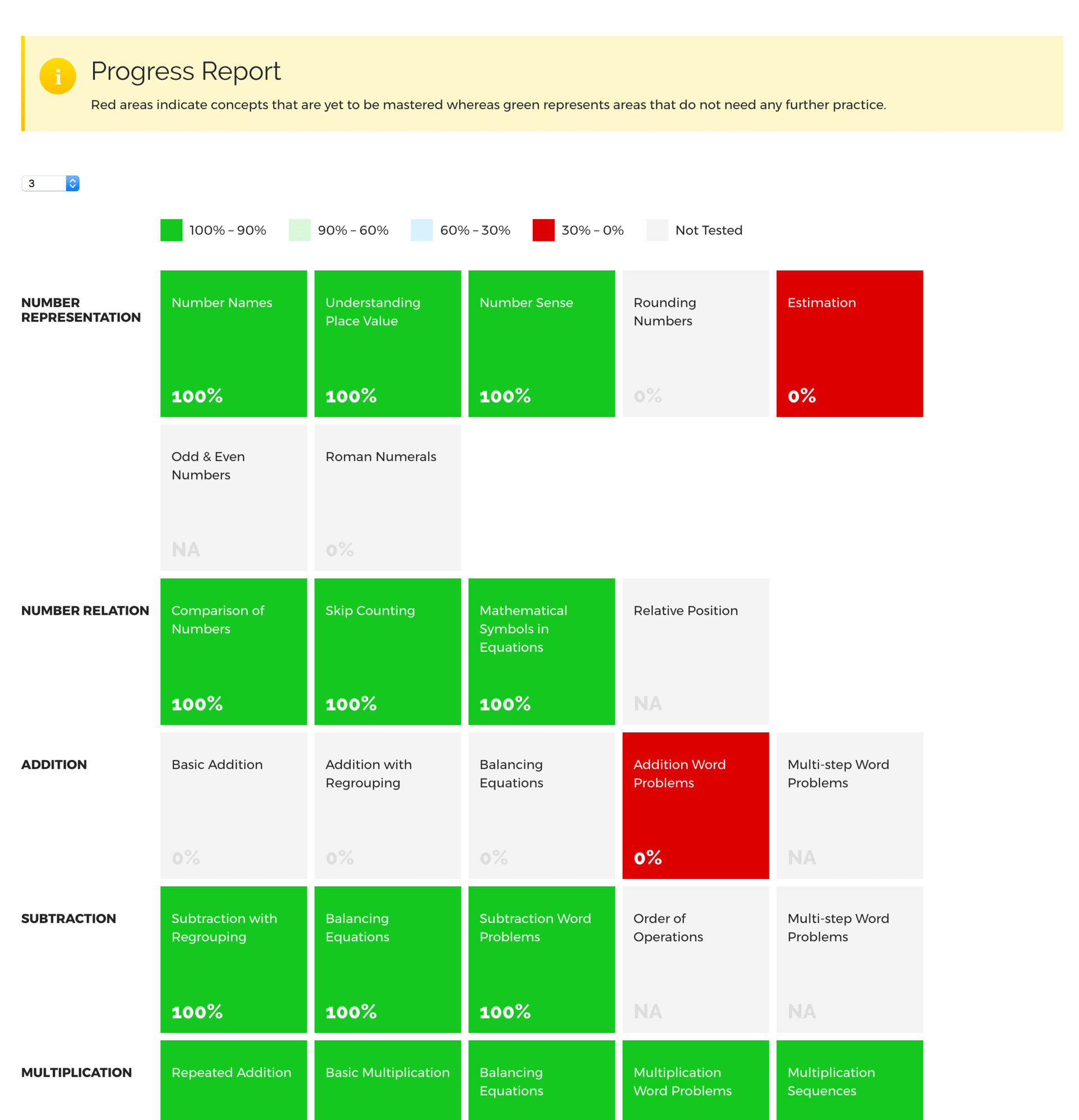 03
You Meet With Your Elite Math Tutor
We'll match your child with an elite math coach, who is dedicated to your child's success. She is your partner in your child's academic progress and is responsible for picking the right math worksheets, grading them daily as well as offer 1:1 tutoring sessions each week.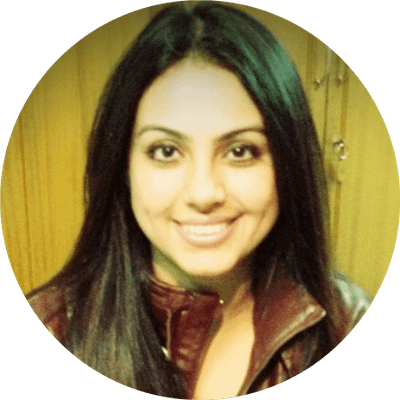 Neha Katyal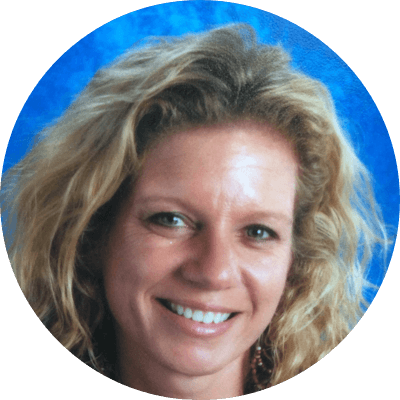 Jackie Borsum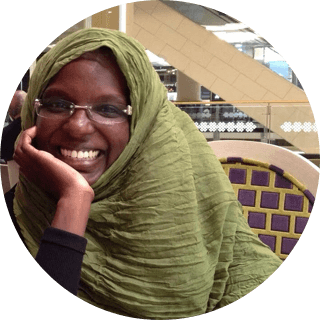 Caroline Mukisa
Homework Help & Test Prep
Our expert math tutors are available to help your child with their homework problems. Our comprehensive test prep program ensures your child achieves better grades with greater confidence.
04
Your Child Gets Assigned Custom Curated Math Worksheets
Every math worksheet is specifically crafted and curated for your child. We expect your child to complete about 10 worksheets each week. Our goal is not only to accelerate your child's learning but also provide a solid foundation for achieving mastery in math.
Oh, you also get to request custom worksheets to help with school work or other specialized test prep. A separate playlist is created for you to follow-up on these as well.
Choose a Grade Below to View Sample Questions
05
Your Child Receives Daily Grading & Feedback from your Elite & Dedicated Tutor
Once your child submits a completed worksheet, our teachers will review and provide feedback along with helpful notes. Your dedicated teacher is available all 7 days a week to provide you concierge level assistance. After all, learning does not stop just because it's a weekend ☺.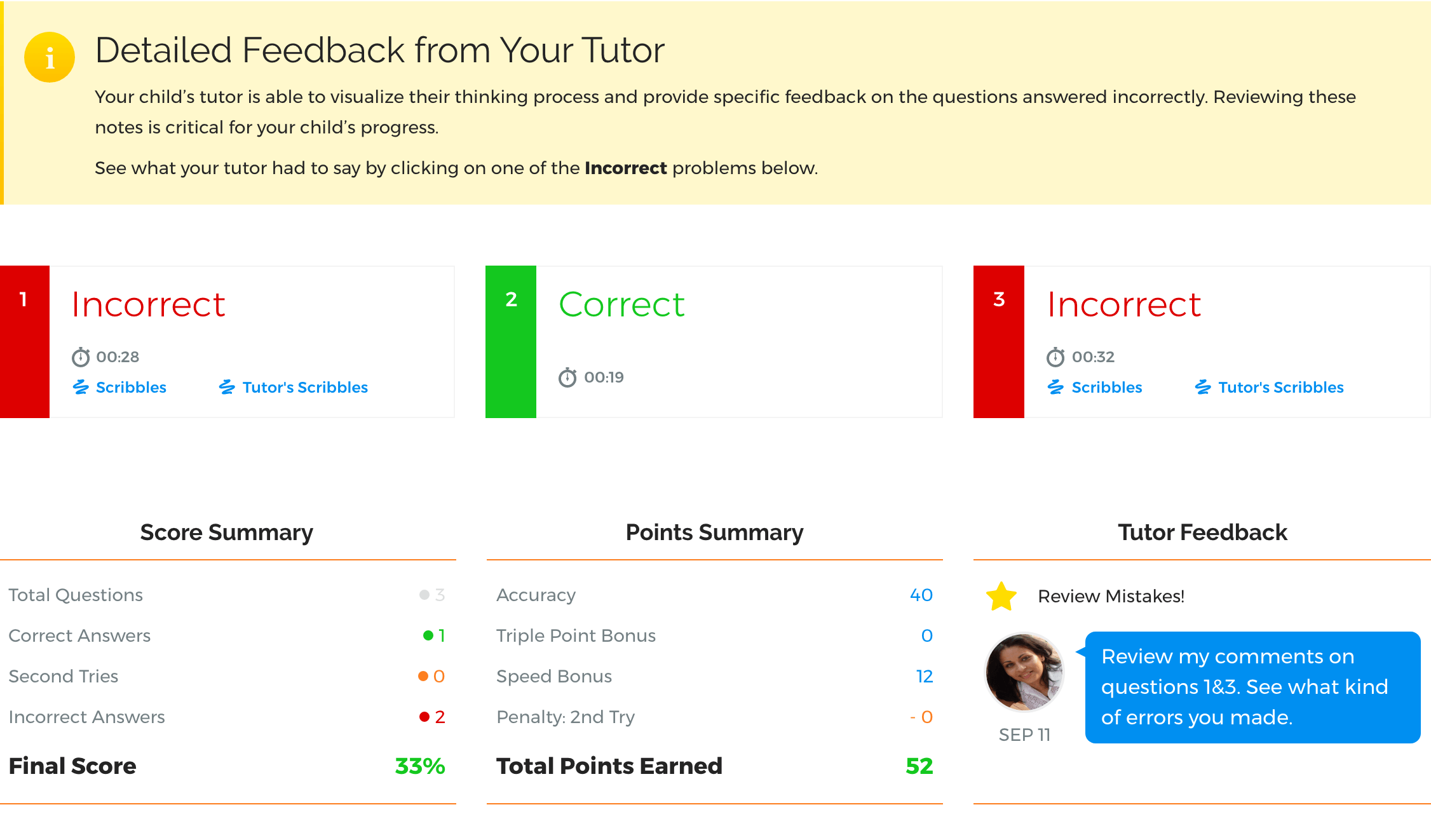 06
Groundbreaking AI Allows Our Tutors to Guarantee Improved Student Performance
Your child's coach is able to visualize student thinking process and provide specific feedback on the questions answered incorrectly. Understanding "why" your child makes mistakes helps our teachers swiftly accelerate their learning.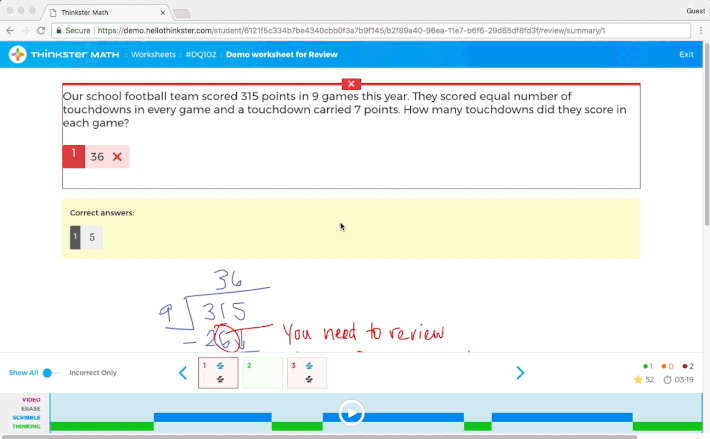 07
All Math Assignments are Backed by Strong World-Class Curriculum
We are aligned to the Common Core Standards as well as to your child's school curriculum. We constantly upgrade our curriculum to ensure that we can challenge our students with real world problems.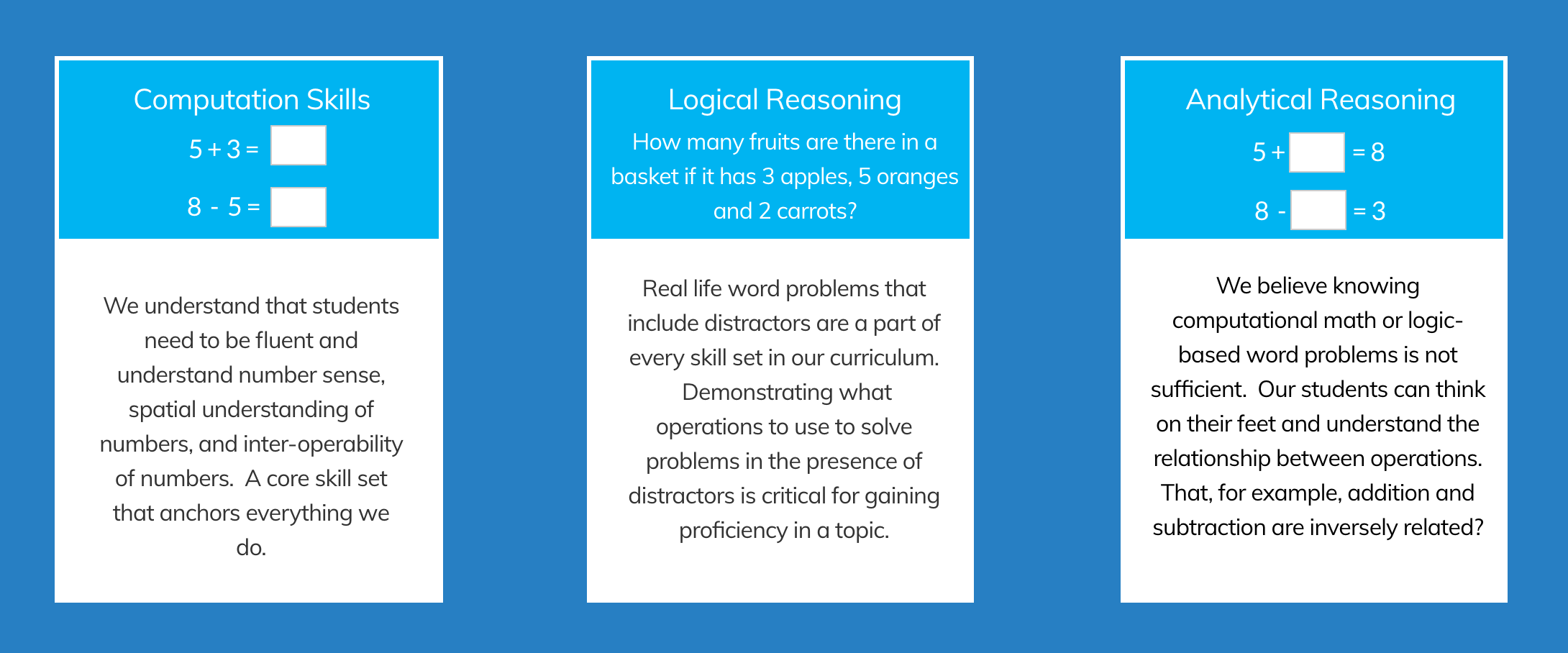 With Strategies that Make Learning Math Easy
08
Plus You Get Weekly 1:1 Tutoring, Incl. School Homework, Test Prep Help
Students in Gold and Platinum plans connect with their dedicated coach for weekly whiteboard-driven tutoring sessions. They get 1:1 tutoring to review Thinkster assignments or get help with classwork or school homework or to help prepare for any upcoming competitive tests.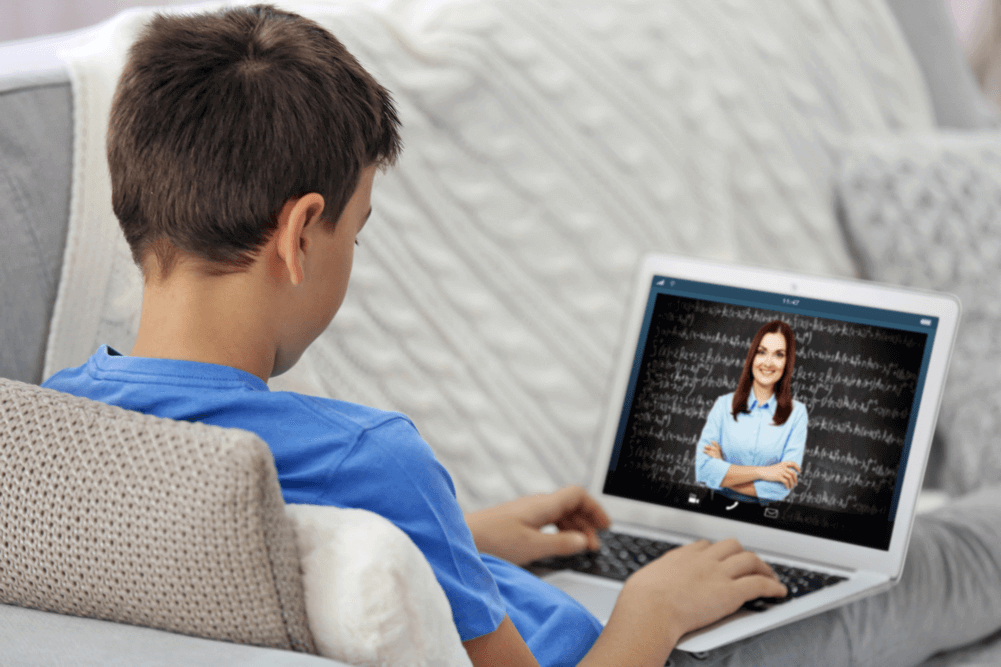 09
And Timely Assistance with Video Tutorials
In addition to assistance from your dedicated tutor, tutorial videos are available for each worksheet. They explain multiple strategies to solve the same exact math problem, and minimize frustrations that your child would otherwise experience when they attempt to solve math problems.
Choose a Grade Below to View Sample Video Tutorials for Other Grades
Our extensive library of tutorial videos is always available to you and your child to browse through our collection by topic and concept name. It gives your child quick access to videos to help with Thinkster assignments, school homework, and test prep.
10
We Want You to Trust Us with Performance Improvement, But Verify for Yourself
Track your child's performance, see improvement by topics and concepts daily & weekly
Your dedicated tutor will not only send you a weekly report of your student's progress (see below for example report), but our Dynamic Progress Matrix, available to you all the time, does all of the above and much more. It provides you a live, constantly updating report of your student's progress over time. Get performance improvement that you can track – transparently!
Dynamic Progress Matrix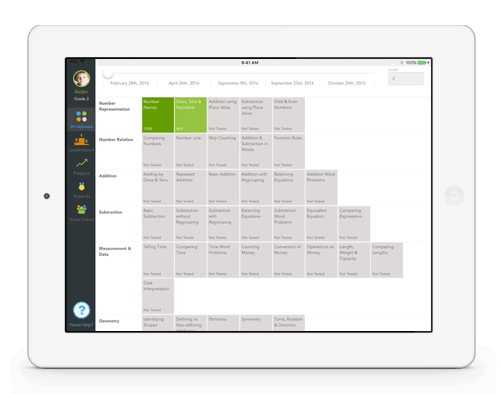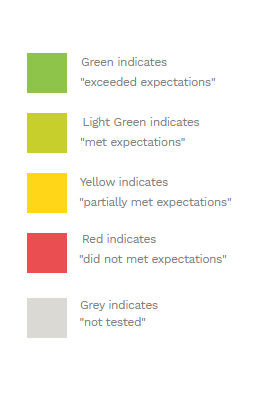 Weekly Report Sent via Email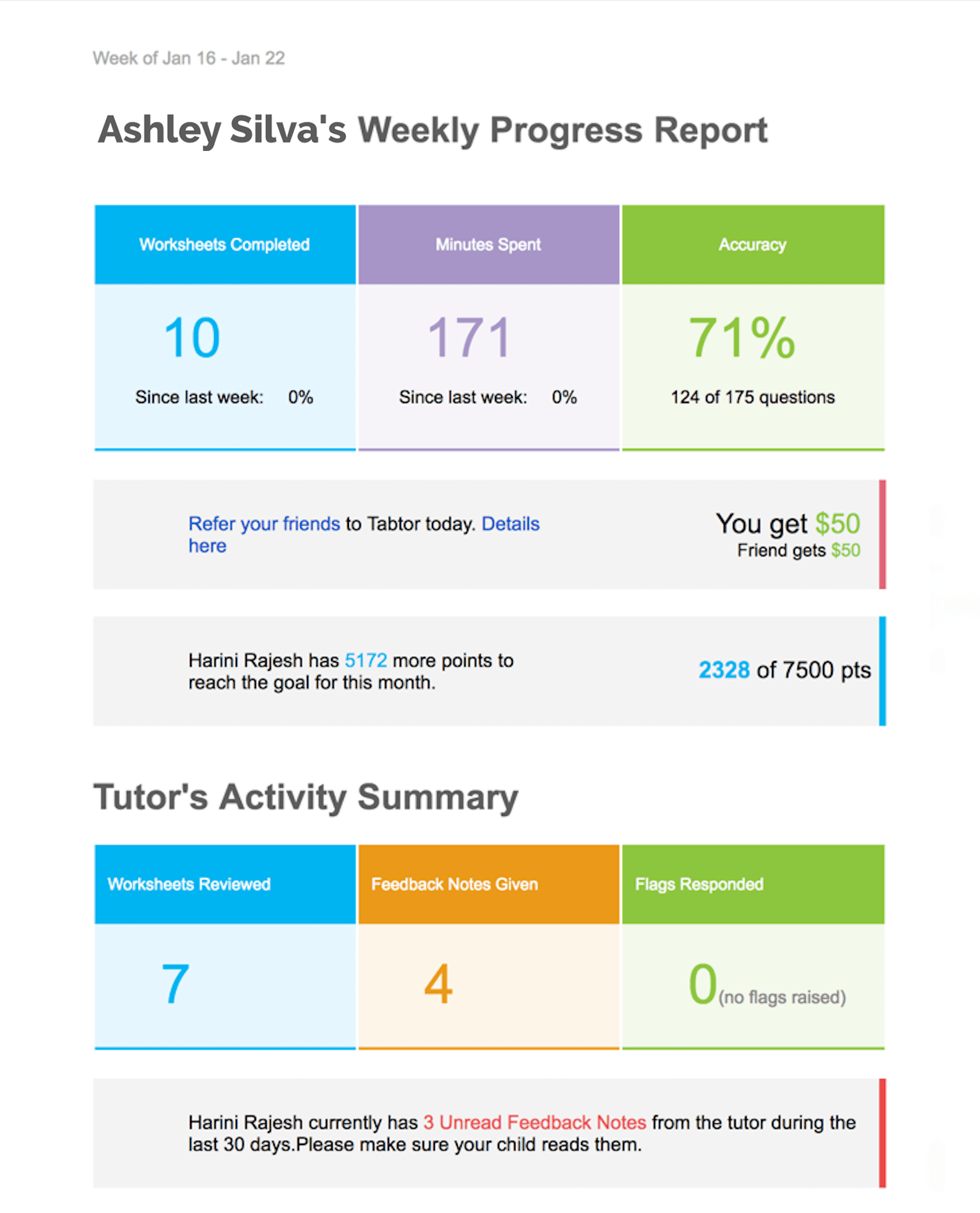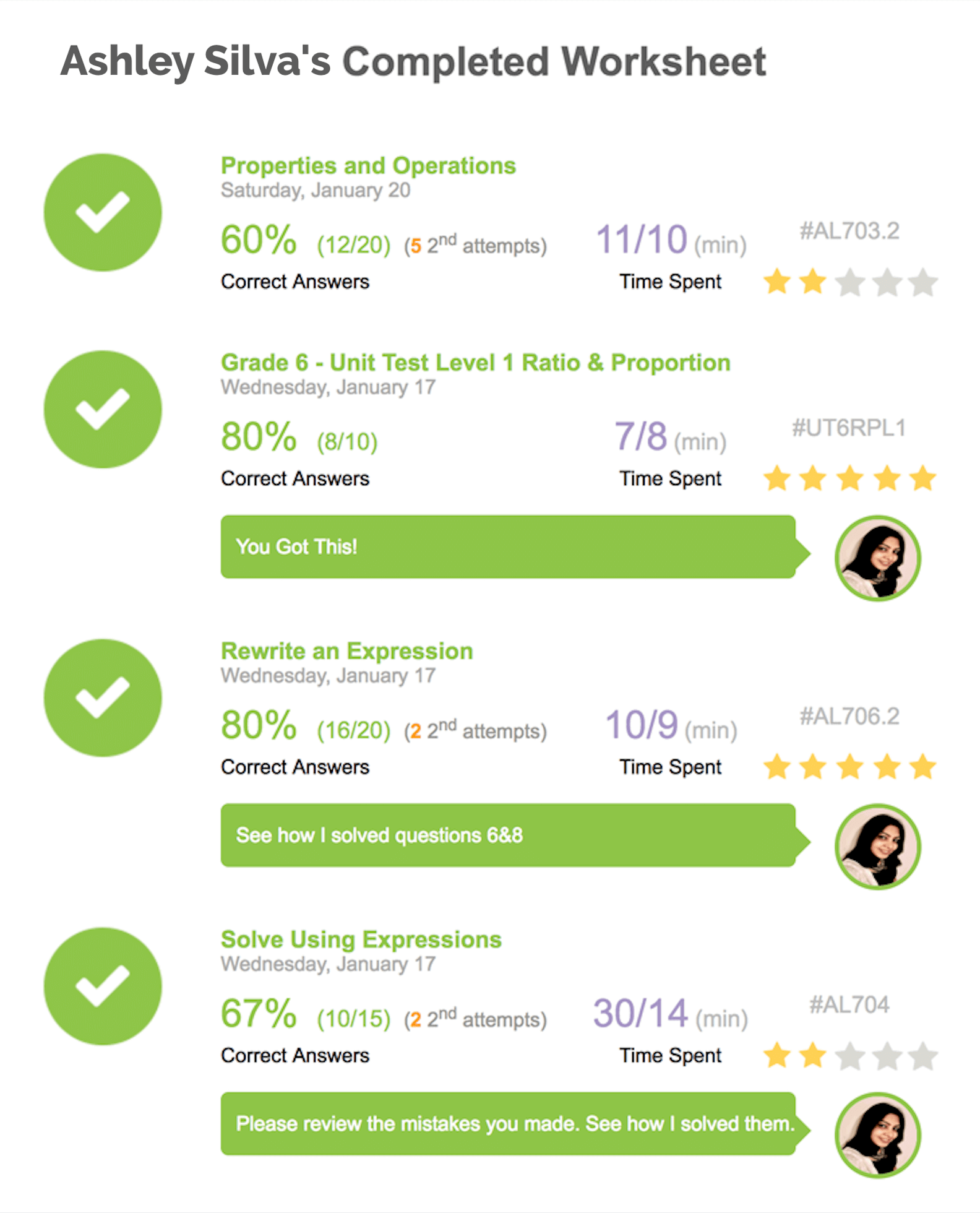 11
We Know You Are Busy - So We Built a Parent Insights App
Now you can track performance, engage with your dedicated tutor, and understand how your child is progressing – right from your pocket!

Activity
A summary of your child's recent activity, detailed stats, your tutor's comments and more.
Coach
Parents can see comments the tutor left, send them questions, and even schedule next conference.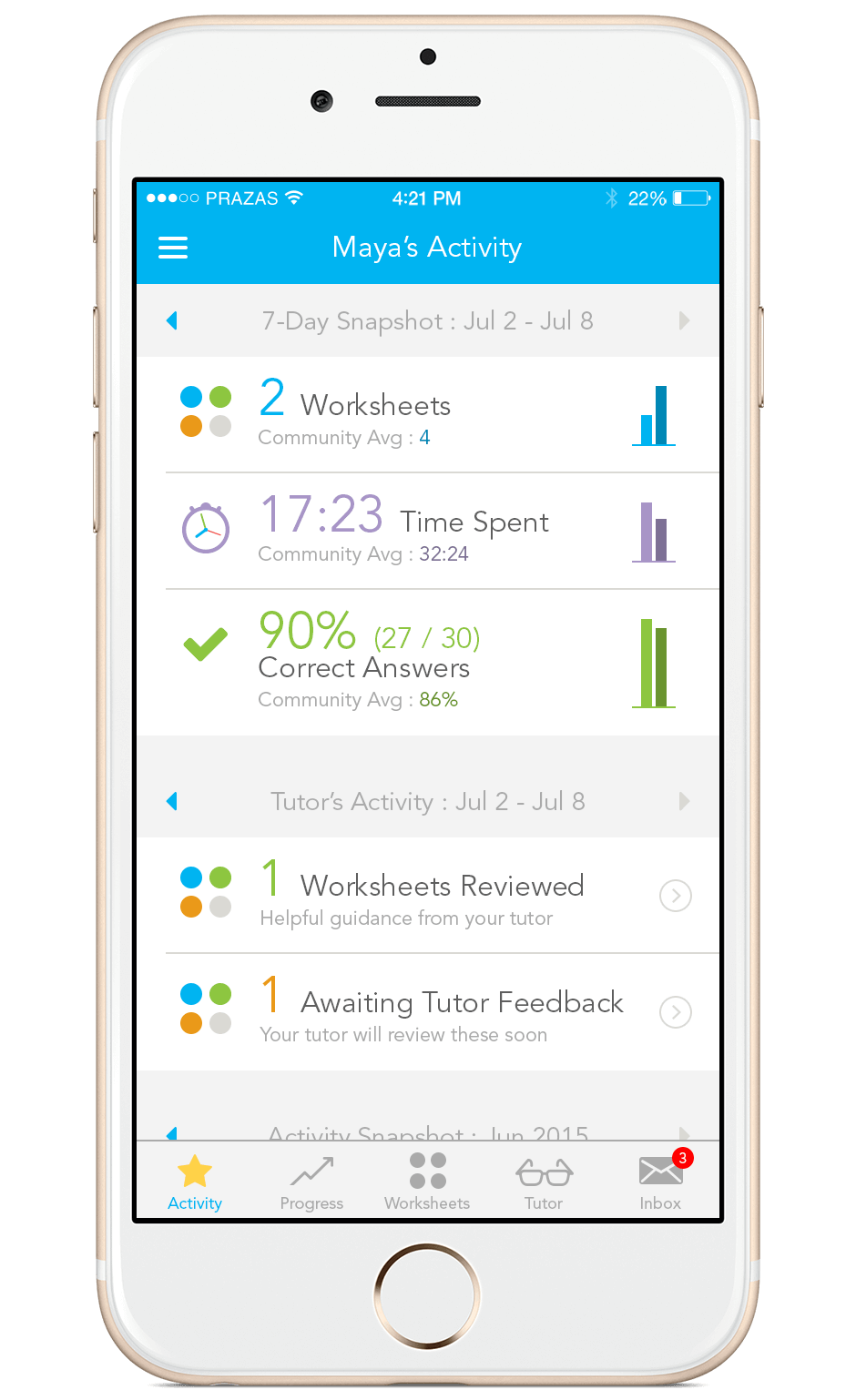 Progress
Track student progress in each math topic. View details about student's worksheets, time spent, and accuracy.
Worksheets
Parents can examine the math worksheets student completed to see where they struggled or excelled.
12
We Made Learning Math Rewarding
Between our leaderboards and gift cards, we give your child all the motivation they need.
Our students earn and exchange their reward points for a gift card. For every 1500 points, you get $1 in gift cards, up to a maximum of $5 in gift cards. We also accrue your unredeemed gifts and you can change your selection any time.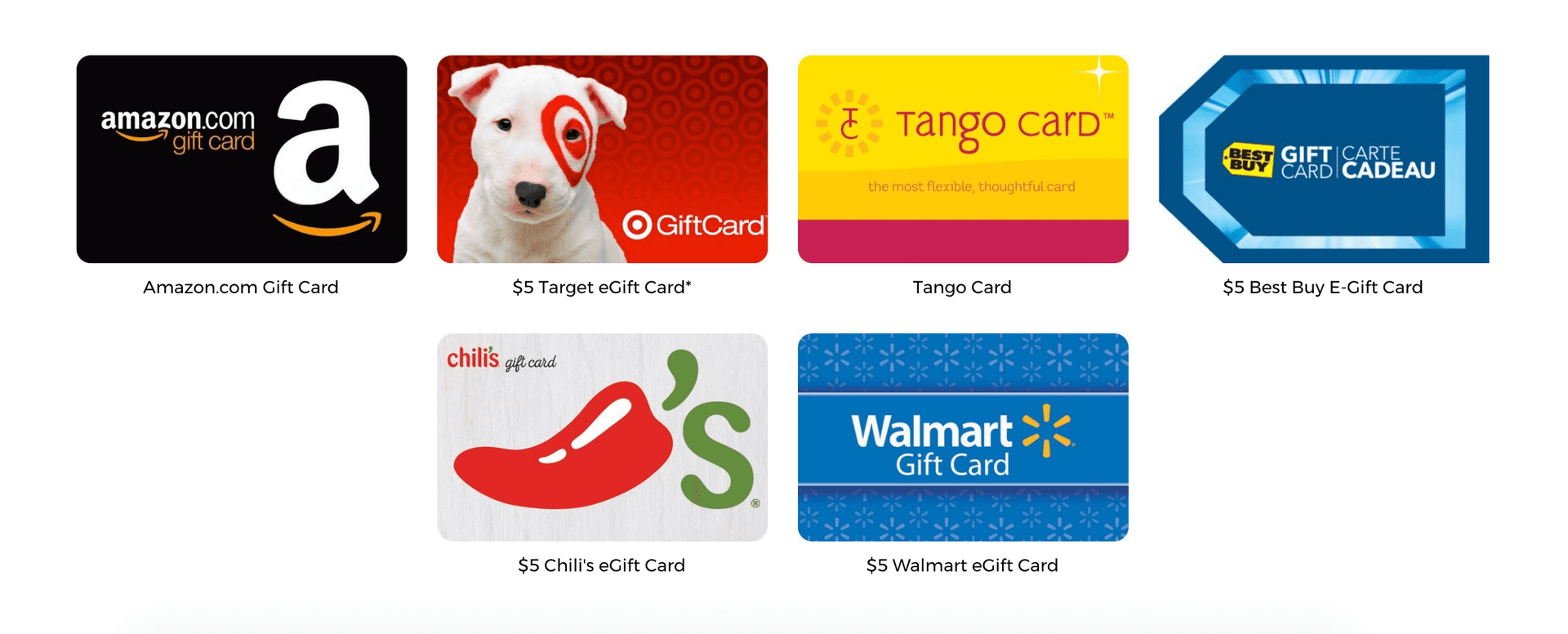 Our Students get to Compare with Their Peers Locally & Across the World with Our Leaderboard for Some Friendly Competition.